Celebrating the Road to Recovery
There's a photo we've probably all seen, of a senior care employee with her arms in the air, jubilant and celebrating the vaccine she received just moments before. Nothing captures better all the emotions of that day, when hope was finally on the horizon and our vaccine clinics offered a huge step on the Road to Recovery. But getting to that moment meant overcoming countless hurdles, many that even seemed impossible, and was the culmination of the contributions and sacrifices of every employee. This is the story.
The Decision
In a deadly pandemic crisis unlike anything the world has ever known, vaccines were the ultimate hope—and challenge. The logistics of distribution would be overwhelming, but early on we chose to aggressively pursue CDC selection as an approved vaccine provider—one of only seven long-term care pharmacies in the country to win that distinction. We knew it was going to be an incredibly expensive proposition, not only in dollars but in vast expenditures of time and energy. But our customers and those in their care deserved our best efforts and resources, and we did it for them—because it was the right thing to do.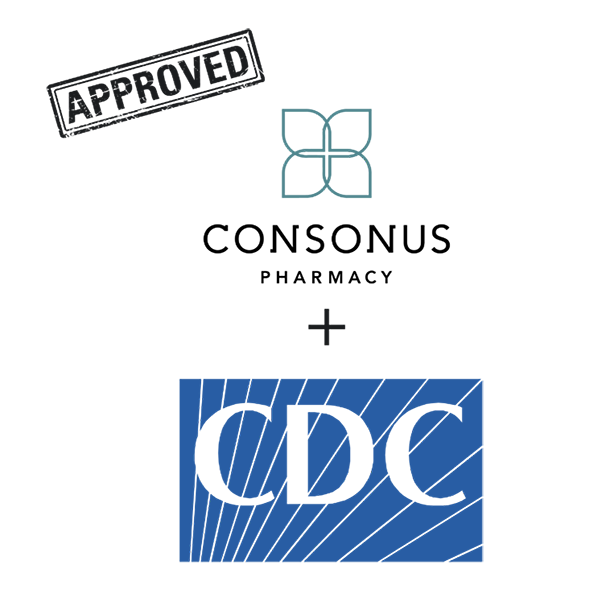 Mobilization
The challenges were endless and formidable. A fragile vaccine that required sub-zero storage temperatures. Software to track consents, vaccinations and second shots. Communication systems, training and the herculean task of staffing mobile vaccination teams and getting them to hundreds of sites. But over endless meetings and strategy sessions, a battle plan took shape. We invested in three ultra-cold freezers and created a vaccination tracking application from scratch. We obtained consents in advance from large numbers of residents and staff. We advocated with governors and regulators that long-term care pharmacies were the best choice to deliver the vaccines to clients and staff. We showed leadership when others seemed paralyzed in inaction by the sheer scope of the task, and prepared for mobilization on a scale we had never attempted before.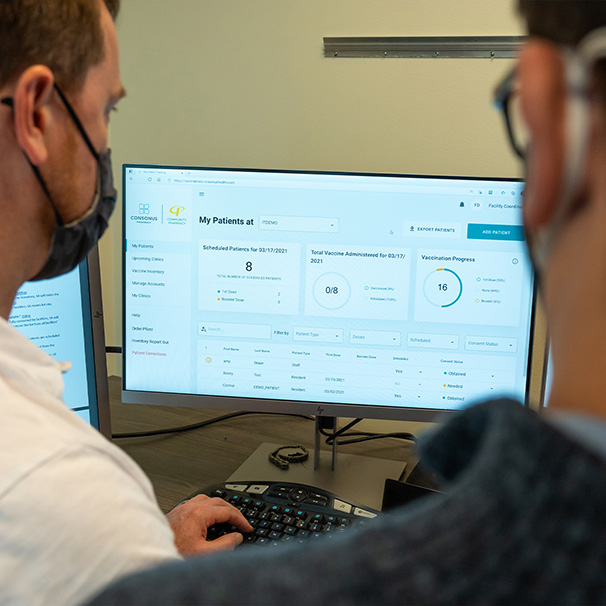 Ready, Set,
Go-Time!
It was one of those unforgettable days when you realize the world might never be the same, and that you're part of something big. The vaccine arrived in the hands of an emotional Fed Ex driver—just a simple white box, but representing an historic moment on the Road to Recovery. Every next step, from just opening the box to preparing vials for delivery, required precise process discipline and pharmacy expertise, and pharmacists and their mobile teams practiced like they were preparing for a rocket launch. As some pharmacy consultants were asked to hit the road with mobile delivery teams, others picked up the slack in customer facilities, sometimes in entirely different states from their usual assignments. The successful mobilization required every employee to be ready and willing to do anything necessary to aid the vaccination effort.
First Shots
Our pilot vaccine clinic opened its doors on Dec. 21, 2020, one of the first in Oregon to do so, and fully a week before the national retail pharmacies were ready to mobilize. It was only fitting that our first resident to be vaccinated, and one of the first in Oregon and the nation, was a World War II veteran who had been decorated for bravery during the attack at Pearl Harbor. This war was against a far different enemy, but he was no less heroic, showing no fear as the needle plunged into his arm. With a wall of reporters and TV cameras documenting the moment, he encouraged others to step up and get the shot.
It was an emotional moment, one that would be repeated over the next three months in hundreds of Consonus senior care client communities in three states. After nearly a year of the pandemic's daily and deadly toll, the vaccine revealed a glorious light at the end of the tunnel, and the first true hope in a long time.
The Campaign
Distributing the life-saving vaccines was just half the battle—the rest was convincing residents and staff it was safe and essential to take them. We quickly learned the media was causing great confusion, and while resident participation rates were extremely high, staff rates initially hovered just above 60 percent. To address fears and build momentum, we provided unbiased, science-based educational materials and videos that focused honestly on the facts. We launched a #GetVaccinated campaign on social media, resulting in 54 posts over 8 channels in 16 days. By the end of the second clinic, staff participation rates had jumped to 83 percent and positive case rates plummeted 53 percent. We also aggressively advocated for our Independent Living residents to receive the vaccine, and hosted our first clinic for that population on Dec. 31, 2020. It was truly a New Year's Eve celebration we'll never forget.
The Grind
The decision to fight for vaccine distribution was the right thing to do, but the right thing isn't always easy. Getting those precious vials where they needed to go required planes, trains, automobiles and RVs, and the challenges we faced included snow and ice storms, power outages and vehicle breakdowns. The RV logistics alone required the full-time attention of many of our team members, from big tasks like managing schedules to less glamorous essentials like waste disposal. From the Pacific coast, through mountain passes and out to the eastern edges of Oregon and Washington, we hosted 750 clinics at 256 sites, and covered 250 thousand square miles in 88 days. From Dec. 21, 2020 to Feb. 28, 2021, only five days were without clinics, and at one point we had hosted an average of 12 clinics per day for 40 consecutive days.
This massive effort would not have been possible without the dedicated staff and volunteers who knew there was a job to be done and lives to be saved. Pharmacy staff not directly involved in clinics helped keep medication deliveries on track, fulfilling a 98.5% same-day fill rate. Those employed in other divisions of Marquis and Consonus accepted an array of additional responsibilities on top of their regular day jobs. For everyone involved, the impact of their contributions was made clear in the daily, first-hand reports from those on the road of inspiring experiences at senior care facilities.
Finish Line
The Road to Recovery vaccination program featured three clinic cycles. These were designed to allow individuals who missed the first clinic to participate in the second, and to receive their second dose in clinic three. This included new staff and admissions, or individuals who had taken a wait-and-see approach. It was with a feeling of exhilaration and accomplishment that we crossed the three-clinic finish line on March 19, 2021. In just three months, we administered 55,070 vaccines, fully protected 27,535 individuals, achieved a 90%+ percent reduction in positive cases and saved countless lives. Through the dedication of our hard-working staff, the clinics succeeded beyond our wildest dreams. And yet, though the end of the pandemic is in sight, the work isn't quite done, and we're marshalling our efforts and energies to confront the final test.
Looking Ahead
Though tremendously proud of our clinic achievements, we're looking ahead to the next urgent challenge. New staff hires and resident admissions will continue to enter our senior care communities, and may not be fully vaccinated. As visitation restrictions are lifted, facilities will be monitored by their vaccine participation rate, making it critical that we continue to provide vaccines. There will even be opportunities to identify life enrichment visitors who may qualify for a vaccine in order to help reduce resident isolation with in-person visits. Though we're now moving away from the clinic model, our vaccine continuity plan will allow us to dispense vaccines to our clients on an on-going basis. It may represent the final mile on the Road to Recovery, but it's as important as any on the journey.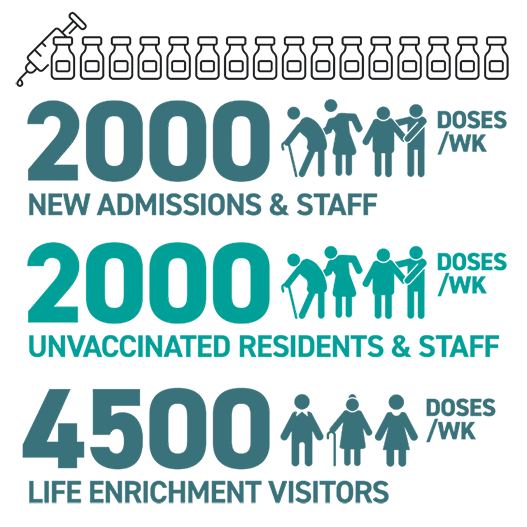 Our thank you extends to all who participated in this effort, including our customers, business partners, and health authorities. Nothing we've achieved would have been possible without the selfless contributions of each and every one of you. Thank you!
Mobile Team
Oregon
Charles Bloom
Christopher Bortnem
Nicole Burnham
Bonnie Carlsen
Cathy Corey
Stephen Corey
Ethan Debates
Susan Debates
Daniel Eaton
Kristin Eaton
Chris Harris
Charles Huckabay
Dione Kelly
Michael Kiso
Nicholas Lewis
Priscilla McClaughry
William McClaughry
Cathy McMaster
Gina Minyard
Vekesh Mistry
Stewart Monroe
Kenneth Newman
Jeffrey A. Nistler
Minoo Nowak
Brooke Ottman
Molly Paulus
William Paulus
Lana Peth
Lindsay Schaub
Bruce Schoen
Joan Schoen
Sarah Seever
Gwen Smith
Sharon Stafford
Ian Strand
Anandi J Thompson
Katrina Thurston
James Villa
Washington
Dale E. Carr
Kelli Carr
Gary L. Crawford
Janet L. Crawford
Kylee A Ferreira
Jessica S Giron
Yvette J. Lee
Manuela Perkins
Sandy F. Peterson
Tracy L. Reuter
Danielle M. VanWagner
Loren R. VanWagner
RX Employees
California
Brittany Ariza
Andree Atanacio
Shelema Atkins
Mika Ballesteros
Gloria Becerra
Vandolf Boncato
Andres Cao
Miriam Cheng
Susan Delmendo
Laura Frutig
Brent Guilliee
Christine Guilliee
Jonell Hutsell
Alyssa Jewell
Melanie Laforteza
Alicia Lee
Junior Lee
Angelique Lopez
Maricris Monroy
Dev Naik
Tu Kim Nguyen
Roxanne Novak
Jacqueline Nubla
Karen Quintana
Joey Ramos
Lynnette Renfer
Angeline Rinck
Shy Rio
Brenda Seffens
Jeremy Supetran
Alexis Tavizon
Cierra Taylor
Jimmy Tran
Dustin Traver
Raechel Urbano
Paola Valencia
Karla Vasquez
Christine Wang
Shi Zhong
Kevin Zuniga
Nevada
Ruben Baray
Christopher Faine
Mercedes Kerr
Christine Pak
Kimberly Rodgers
Chanyis Taylor
Ashley Terrell
Eva Tomaszewski
Oregon
Jamie Arnspiger
Jamie Bahner
Kyle Beechly
Elaine Bent
Rebecca Bertam
Beth Biggs
Frederique Blouin
Lorene Boyd
Rachael Boyd
Cole Braun
Savannah Braun
Amy Braun
Abel Bravo
Elizabeth Bronson
Emma Brown
Susan Broxon
Andy Bui
Derrick Bulseco
Christine Burg
Douglass Burke
Daniel Byers
Sheryl Byrd
Sergio Calvillo-Ruelas
Eliza Capuia
Bradley Chase
Melissa Chase
Steven Cheung
Sherry Ching
Emily Crouch
Mirna Cruz Rodriguez
Chante Cummins
Leah Cummins
William Davids
Tamara Davis
Kelcey Delach
Brittany Denson
Victoria Dubintsov
Christian DuJordan
James Emmons
Leslie Esparza
Scott Everett
Terri Fagan
Lorna Fell
Debra Fergerson
Alyson Ferrer
Cassandra Frutos
David Gambill
Tammie Garcia
Amanda Gaylord
Samuel Gemeda
Zeinab Goudiaby
Nathan Hedin
Margaret Hendrickson
Erin Hewitt
Jodiee Hickok
Daniel Hockett
Deborah Hull
Aubree Humphreys
Mark Hutchinson
Ayelen Hyun
Teresa Ide
Ashley Johnson
Heather Johnson
Jhquetta Johnson
Aleksandr Kaletin
Alina Kaletin
Shawn Knoetzel
Zachary Korstian
Irum Kotaiche
Sophia Kwon
Tami Laflen
Lisa Lam
Kenia Lamar
Khoa Le
Eric Lintner
Mandy Liu
Kyle Lopez
Brittany Louie
Sarah Love
Maria Francia Marasigan
Neil Marshall
Carrie McClaughry
Stephanie McPherson
Judith McWhirter
Jennifer Minter
Mikayla Minyard
Scott Mitchell
Mark Moody
Julia Moody-Warren
Jimena Moreno Alvarez
Kathy Morsett
Nivarni Nand
Dumitru Negreanu
Emma Nesmith
Mavrick Nesmith
Richard Nesmith
Lucas Newman
Kevin Ngo
Alicia Nguyen
Chau Nguyen
Hong Nguyen
Thuy Nguyen
Sandra O'Regan
Alla Onishchenko
Connie Ortega
Leigh Overton
Katie Penkert
Jennifer Pham
Kristie Phan
Mona Phan
Tina Pick
Kimberly Pitts
Glendy Quintanilla-Garay
Adam Rachal
Alicia Rachal
David Rachal
Teodora Raducheva
Devin Rago-Vanderwall
George Reed Jr.
Alex Rivelli-Keagbine
Robert Rizer
Lia Robichaud
Lorna Sager
Michelle San Pedro
Suzanna Schertz
Makila Schuck
Daniel Shively
Howard Snyder
Maricar Snyder
Jessica Steinbrecher
Lynn Strand
Phillip Szeto
Kathryn Tamburino
Henry Tang
Wayne Tayler
Jennifer Tayler
Kaitlin Taylor
Taylor Thom
Liana Tschen
Timothy Unger
Genevieve Van Herk
Jennifer Vaughn
Michael Warren
Justine Weaver
Madeline Welch
Olivia Welch
Laneah White
Cassidy Williams
Kacey Winchester
Matthew Winters
Edward Wisniewski
Jonah Wright
Hannah Wu
Steve Xiong
Tina Yarnell
Tracy Yeamans
Hyun Yi
Cindy Zahrte
Lacey Zimmerman
Washington
Aleksandr Agusevich
Nadezhda Agusevich
Lindsay A. Binder
Sefanit A. Birku
Jannis A. Briones
Danielle M Briones
Catalina Bunescu
Alexandra Castro
Terika Chand
Leanne DeJong
Teri Ferreira
Laura G Finney
Juliana F. Fuentes
Glenn D Galinato
Christopher R. Giles
Farishta Hashimi
Theressa M Hecht
Wei-Chun Hsia
Andrea E. Huckabay
Karissa M Ickes
Heather L. Inczaukis
Victoria Paige Kramer
Rinku Lakhani
Jim Lampkins
Ria Y Landon
Susan L. Lienhard
Leilani Logan
Uzoma O. Mbogu
Joan McIntosh
Cathrine R. Morse
Julie A. Ngo
Hop H Nguyen
Christopher Nomura
Max H. Oberholtzer
Truong Pham
Sandy Pheap
Madina Popal
Marwa Popal
Eric Shane Reed
Margarita Ruteva
Kayla N. Sanchez
John S. Sexton
Shelly J Shim
Hayden J Singh
Sukhpreet Singh
Karen Stuessi
Marvin Hearns Talens
Paul Tran
Julie T. Truong
Evgenia Volenko
Holly D. Wallace
John Wallheimer Jr
Tracy Wisniewski
Gloria Young
Vaccine Administrators
Sherene Abat
Bethany Aberle
Nelly Ablog
Bashir Abumenjel
Luisa Alcantara
Joan Alfano
Alexandra Alverez- Padilla
Fe Anderson
Marjorie Andrews
Kimberly Andrews
Sarah Andrews
Rebecca Araya
Mayra Arce Vargas
Divinity Arciaga Tanke
Diana Armouch
Denise Arthur
Tom Ascher
Christine Ashton
Beverly Aydelotte
Josepf Baccam
Anna Bah
sheryl Baker
Rachel Balboni
Fiori Bariagbir
Erin Barnes
Kathryn Baur
Andrea Bennett
Vanessa Benning
Anthony Benthin
Wendy Berg
Anna Berka
Bethany Berndt
Steven Berning
Mary Bethea
Hailemichael Bezabeh
Rebecca Binder
Kimberley Birkemeier
Jordan Blackwell
Lyndsi Bobst
Amy Bohna
Christy Bomberry
Creecian Boyce
Sarah Bracken
Jeannie Braden
Leanne Brantley
Michelle Braun
Tamara Brown
Brittany Brown
Paul Browning
Scott Buck
Amanda Burdine
Joe Byrne
Traci Caddy
Loreen Cadero
Garrett Callahan
Nicholas Callicoat
Nicholas Callicoat
Justin Cambridge
Maria Cameron
MELYSSA Campbell
Laura Campbell
Sierra Canites
Caitlyn Cardona
Samantha Caribardi
Maryanne Carlson
Brandi Caro
Brita Carpenter
Tracy Carr
Giovanni Carrasco Gomez
Tosha Carter
Jean Carver
Teresa Case
Katrina Castillo
Chelsi Cate
Janet Caudill
Jeanine Cavagnaro
Kristen Chapman
Summer Chatham
Anayeli Chavez Lara
Anne Chege
I-Chun Chen
Philip Cheng
Swapna Chennareddygari
Julie Chestnut
Kathleen Christensen
Jill Clark
Thomas Clark
Kendra Clark
Shen Clark
Terry Coe
Ivy Coenelius
Krystal Cohn
Matthew Cole
Lynn Cole
Jennifer Colet Castaneda
Phyllis Commeree
David Connolly
Sarah Conroy
Kim Corey
Kimberly Corey
Carol Cortez
Suzanne Cothern
Flor Craig
Brenda Cunningham
Lalaine Dahlin
Athena Dalton
Tracy Danna
Swaran David
Tracy Davis
Denise Davis
Daphany Davis
Elizabeth Davis
Julia Davis
Caroline Davis
Joan Dawson Werner
Sofia De Asis
Aubrey De La Rosa
Christina De Paz
Rachael De Souza
Noel Del Nodalo
David DeLaRosa
KARA DELCURTO
Robin DeLeon
Sequin DeMar
Traci DeMarco
Lucinda Demee
Charina DeMille
Esther DeWald
Jason Dexter
Amanda Dexter
Lalaine Dhalin
Jennifer Diehl
Michael Dillinger
Margaret DiValentino
Sarah Donohue
Michelle Doty
Jennifer Dougherty
Sheila Dozier
Jodi Dressler
Jean Drevdahl- Orchard
Vera Dudik
Margie Dunham
Jessica Dunn
Laura Dunn
Penelope Dunne
Shelly Dupell
Michelle DuPree
Leona DuWors
Katie Edick
Nikki Edwards
Gale Edwards
Kathleen Elias
Dana Emmatrice
Hazel Enriquez
Ward Erickson
Janneth Escalente
Solande Estrada
Gil Estrada
Angela Evans
MaryAnn Ewing
Karli Fahrlender
Shana Fain
Benjamin Fallah
Judi Faris
Arash Fathizadeh
Rebeca Feliciano
Christina Fenerty
LeAnn Fenwick
Kaitlyn Fernandez
Jeannie Fessenden
Jacqueline Fisher
Dan Fitch
Kathy Fitterling
Ulrike Fleck
Nancy Flowers
Laura Foster
Benjamin Fowler
Jodi Fowlkes
Lynn Fox
Jonathan Free
Nicole Freeman
Shannon Freeman
Lisa Frey
Kelsey Fyfe
Elaine Gabriel
Bernice Galicia
Madeleine Gallaher
Whitney Gange
Pamela Garcia
Kristena Gardner
Annette Garner
Victoria Gawlowski
Laurie George
Endalkew Gesese
Cynthia Gill
Margaret Gillien
Erin Gingrich
Hiwot Girma
Erin GLIME
Amanda Goergen
Sara Golsan
Shirley Gomez
Lauren Gomez-Morayta
Olga Goncharenko
Taylor Gonzales
Kimberly Gonzales
Melissa Gonzalez
Stephanie Gosselin
Kendra Gouge
Meggan Gould
Howard Graitzer
Kari Gratz
Delena Graves
Debra Gray
Todd Green
Lindsey Greene
Angelia Gregg
Steven Griffis
Hawni Grillone
Danniell Guffey
Barbara Gulden
Diana Haggerty
Semere Hailemariam
Meghan Hales
Shelllie Halfhill
Dawn Hall
Erin Hall
Mary Hamilton
Donna Hammar
Brennon Hand
Breanna Handley
Heidi Haney
Kathy Hansen
Emily Hanson
Kelly Hardin
Laurie Harris
Andrea Hart
Sandra Harwood
Mohamud Hassan
Lisa Hauk
Paula Hawkins
Sharon Hayes
Charity Hazzard
Jailee Head
Nicole Heenan
Priscilla Heimsoth
Jane Hermano
Ketewa Hesslup
Cathy Hill
Zarchi Hlaing
Kari Hocker
Lorraine Hoffman
Jenny Hokenson
Shawntina Holaday
Michelle Hollenback
Angela Holomb
Paula Hoover
Mary-Grace Hopkins
Sarah Horton
Nathanael Howe
Cheri Hubbard
Rachel Huffman
Mimi Hughes
Alyssa Hunt
Jeff Hunter
Cher Huppunen
Andre Hussian
Abdulaziz Ibrahim
Whitney Ice
Patrice Ingrassia
Rachel Inman
Adriana Iuras
Deborah Ives
Karissa Jackson
Melody Jackson
Calisha Jackson
Robin James
Gerry Jarabelo
Lorie Jarvis
Carol Jeffers
Josh Jenkins
Chelsea Jennings
Kristine Jensen
Jessica Jensen
Sabrina Jensen
Brandy Jensen
Barbara Jimenez
Donna Johnson
Arlee Johnson
MaryAnn Johnson
Christine Johnson-Sundby
Jackie Johnston
Karen Jolicoeur
Allison Jones
Kathleen Jones
Regina Jones
Julia Jones
Julius Kariuki
Lisa Kas
Ahmed Kassa
Nanandi Katti
Suzana Kayan
Hailemariam Kebede
Ingrid Keenan
Debra Keith
Tammi Kellington
Lucy Kelly
Fredrick Kennaday
Susan Kenney
Lisa Kensil
Laura Kiepert
Janet Kiernan
Dayna Kim
Hyeongyu Kim
Kristina Kimmel
LaKima King
Kirstin King
Katarina Kirby
Elizabeth Knaff
Amber Knapp
Elizabeth Knauff
Debbie Knauss
Tonya Koeppel
Matthew Kohler
Kathryn Kolonic
Tanya Kracheva
Kimberly Kuhnau
Soniya Kunwar
David Kutch
Cherie Kyalu
Melissa Lackey
Christina Lambert
Sushkara Lamichhane
Naomi Land
Micheal Larsen
Haley Laughlin
Valerie Launius
Joseph Laureta
Robin Lawrence
Melissa Lee
Katherann Lee
Yoonseon Lee
Christopher Lehman
Kiyomi Lehman
Ashley Lehman
Christina Lemons
Monique Lerno
Patrick Lesich
Sandra Leverette
Megan Levine
Laura Lindberg
Summer LLoyd
Allen Lluisma
Bobbie Loomis
Andrea Loveday
Annika Lowrey
Megan Lucas
Marietta Luman
Erin Lunde
Michelle Lutz
Billy Mabe
Kristi Mace
Julie Maclaughlan
Heather Madden
Amy Magner
Sabrina Mahamoued
Pirtpaul Malhi
Abby Manibusan
Hailey Marbach
Princess Mariano
Vega Marilyn
Erica Marsh
Karen Marshall
Bonnie Marshall
Erica Martin
Maria Martinez
Bobbi Marugg
Michelle Mason
Shantell Mason
Joan Matthews
Danielle Mayberry
Cricket McCloud
Molly McCollum
Cynthia McDaniel
Callie McGrath
Jeffrey McKay
Susan McKennon
Khrisna McKinney
Susanne McLaughlin
Caroline McMullan
Leah Meadows
Victoria Mears
Shivani Mehta
Alexis Melideo
Bev menjivar
Kayla Meredith
Ruth Merrill
Alicia Meuser
Camille Meyer
Joyce Meyersick
Victoria Mganga
Stephanie Miaoulis
Brandi Miller
Ruth Miller
Brenna Miller
Ruth Miller
Julie Miller
Mary Miller
Brigitte Miller Rocha
Christiana Min
Joanne Miracle
Kevin Moore
Michael Moore
Bailey Morisak
Bryan Morris
Ken Mortland
Dawn Moskowitz
Mary Munyua
Carrington Muriu
Blair Murphy
Rafael Murray
Kathleen Myers
Susan Myers
Lisa Neal
Tamara Nelson
Karen Neuenfeldt
Leeann Newell
Rose Ngigi
Hien Nguyen
Erin Nicks Martin
Leah Nirschel
Qiera Nixon
Reanna Nocon
Vicki Nordby
Farrah Nosrati
Katelyn Nottingham
Stella Nsadde
Kerry O'Brien
Deborah O'Neil
Kandice O'toole Stinnette
Kathie O'Dell
Sarah Obujen
Kayla Odenthal
Jennifer Ogle
Jacey Oglesbee
Rosana Oller
Barbara Olson
Eloizza Ortiz
Christopher Ortolani
John Osborn
Rochelle Ostrom
Ted Otto
Nilo Ouano
Carolyn Owen
Joanne Ozaki-Moore
Larisa Palanchuk
Wilson Panoy
Kimberly Parris
Patricia Paruch
Nancy Paschall
Nicole Pashek
Lisa Patterson
Summer Pearch
Ann Pedack
Dionetta Pengilly
Tamara Perzhu
Sheri Pfost
Rebecca Pham
Zachary Phan
Megan Phelps
Ashley Phelps
Brenda Phikulchakorn
Ramona Picard
Janelle Pioquinto
Allison Polonsky
Debbie Porter
Elizabeth Price
Kendra Prier
Terri Pryne
Lisa Pujol
Erika Pullen
Amy Ramirez
Beca Ramos-Ochs
Paetra Randall
Jason Rankin
Debbie Rayburn
Carol Reed
Makayla Reese
Emmalie Reese
Patricia Regalado
Kari Regas
Bethany Renner
Sarah Reser
Alicia Reyes
Tiffany Rhoads
Katie Richins
Donella Rieke
Christine Rito
Susan Ritty
Margaret Roberts
Joni Robertson
Sarah Robins
Jocelyn Robinson
Stefanie Robles
Mary Roelike
Clover Rose
Michael Rosencrance
Abigail Roth
Valerie Rowe
Lisa Rudisel
Michelle Rushton
Amanda Sadler
Salina Sahle
Sara Sahlfeld
Jamaila Salenga
Donna Salmeron
Janelle Salvetti-Vanacker
Pamela Sanchez Heier
Tara Sanders
Krystal Sanfillippo
Christina Saunders
Deborah Sayler
Corinne Schambers
Cindy Scherba
Sheila Schneider-Mullins
Debra Schnieder
Connie Schoen
Ryan Schroeder
Alexandra Schulte
Karen Sechrest
Sengthip Seneboutarath
Mackenzie Serrano
Stacey Sheets
Alisa Sheets
Michael Sherwood
Mary Shields
Melissa Shields
Larysa Shirota
Ryan Shults
Qabana Sima
Katie Simpson
Olga Simpson
Connie Singer
Bethany Sink
Stephanie Sirisithi
Nancy Slaymaker
Laurie Slye
Katie Smith
Alicha Smith
Babara Smith
Pearlene Smith
Filipinas Smith
Breyane Smith
Nia Smith
Cindy Soares
Diana Soto
Renee Speck
Vivian Spitza
Lena Spohn
Terryn Spragg
Shawna Stallcop
Earlene Stanley
Jordan Stanley
Jessica Stanley
Julie Stanley
Leslie Star
Valerie Starr
Alina Staub
Patricia Steele
Chelsea Steele
Patricia Steele
Naomi Sterba
Dane Stevenson
Scott Stewart
Camille Stickel
Michelle Stinson
Amy Stivers
Lisabeth Stolp
Kristan Stone
Rachel Strand
Heather Stratton
Emily Striplin
Amy Sugg
Casey Sullivan
Jessiah Supanich
Katie Suppan
Marcie Suppe
Tenaye Surbaugh
Mindy Sylvestre
Kelly Taaffe
Monique Taoras
Jacelyn Tappert
Tina Tappouni
Maria Taskar
Deborah Taylor
Maegen Taylor
Joan Taylor
Tim Teel
Sharon Thiel
Franciene Thompson
Suesan Thompson
Alanna Thompson-Poore
Emmalee Thornton
Michelle Thrapp
Mary Timmol
Denise Tinkham
Rebecca Tobias
Cynthia Tran
Nadine Tranquilla
Kayla Trosper
Eric Troyer
Laura Trupp
Jeffrey Tubiolo
Jessica Turner
Carolyn Turner
Matt Uemoto
Teresa Uhl
Sarah Urias
Montana Usselman
Emma Utterback
Kale Valley
Holly Van Loo
Marisa Van Skike
Melissa Vang
Ceelina Ventura
Maria Villegas
Jennifer Vinuya
Cheryl Voigt
Reann Voorhies
Elizabeth Waiss
Janet Wakefield
Donald Walker
Andrea Walker
Loni Walling
Roy Wang
Brian Ward
Xenabelle Warner
William Watkins
Hailey Watson
Debbie Watson
Diane Waunus
Valerie Weaver
Robert Webb
Suzanne Webber
Lisa Weige
Eric Weir
Linda Wenger
Lindsey West
Cassie Whalen
Jessica Wharton
Dawn Whipp Groberg
Tashauna Whitaker
Michele White
David Wilken
DuAnn Will
Aaron Williams
Aaron Williams
Caitlin Williams
Michele Williams
Stephen Williams
Steve Williams
Krystal Willingham
Anthony Wilson
Judy Wilson
Thomasine Wilson
Pat Winkler
Barbara Winpisinger
Nicole Wolfs
Savannah Wood
Lesa Wooton
Pati Wright
April Wright
Melissa Wright
Fangxin Ye
Ana Ympa
Christine Young
Ana Ypma
Nelly Yuzbasheva
Anna Zentner
Lorraine Zumwalt
Customers
Adams House Assisted Living

Advocate Care

Alder Ridge Senior Apartments

Apple Springs Senior Living

Devan Cooper
Kathy Johnson
Mary Wear

Applegate Place Assisted Living Community

Arbor Oaks Terrace Memory Care Residence

Arbors Memory Care

Ashley Manor - Lund Lane

Ashley Pointe

Aspen Ridge Memory Care

Aspen Ridge Retirement Community

Bryan Carnahan
Jan Robinette

Barnett Woods

Bay Pointe Retirement Community

Haley Fitzgerald
Jody Gauthier
Jessica Ho
Jennifer Zeh

Bayberry Commons Assisted Living & Memory Care

Bridgecreek Memory Care

Brightway Memory Care at Laurel Parc

Anca Daniels
Howard Dunkley
Jenny Patoc

Brookside Place Assisted Living

Brookstone Alzheimer's Special Care Center

Callahan Court Memory Care

Callahan Village Retirement and Assisted Living

Becky Benzel
Tammy Huntley

Cascade Manor

Angelio Davis
Penny Dunne
Trisha Wygant
Brian Young

Cedar Crest Alzheimer's Special Care Center

Cheney Care Center

Clatsop Care Retirement Village

Launa DeGiusti
Channon Larson

Clearwater Springs Assisted Living

Chasiti Ingram
Hailey Watson

Columbia Basin Care

Aubree Schreiner
Jasen Tennison
Leana Tennison

Columbia Ridge Senior Living

Lorraine Brannum
Emily Taghon

Country Side Living in Canby North

Country Side Living in Canby South

Michele Quinn
Sheena Willis

Country Side Living Redmond

Kathy Dominguez
Cari Langenbach

Courtyard Fountains

Mary Beisley
Nichole Bosma
Bonni Henderson

Edmonds Landing Assisted Living

eliseo

Evergreen Court

Evergreen Memory Care

Amber K. Frye
Heather Martinez

Evergreen Senior Living

Debby Johannes
Sarah Morales
Lindsey Robbins

Farmington Square Beaverton

Farmington Square Eugene

Theresa Curcio
Matt Hackett
Jill Roblin-Maher

Farmington Square Gresham

Kalina Bounphisay
Perla Gonzales
Jessica Saray
Maline Souliyalaovong

Farmington Square Salem

Jessica Penland
Sarah Shipley

Farmington Square Tualatin

Jennifer Chongway
Stace Jarvis
Tammy Smith-Martin
June Sulffridge
Tawnya Theodore

Fieldstone Cornell Landing

Lucie Flood
Krista Kinzer
Amy Sandoval

Forest Grove Beehive

Tara Davis
Charity Jammeh

Fountain Court Senior Living

Fred Lind Manor

Mari Carlin
Dave Foltz
Mimi Kamara

Friendship Health Center

Maile Cobb
Ruth Deitz
Dane Jensen
Erica Knepper
Jessica Nosen
Christy Schomas
Kim Williams

Garden Court Assisted Living

Samantha Chavez
Heinz Gehner
Nicole Purcell
Chelsea Wright

Garden Court Retirement Community

Generations Assisted Living

Becky Bearden
Caelyn Krech

Glenwood Place

Harmony Guest Home

Harvest Homes

Josie Cole
Lyndia Moyer
Candy Rolon
Dulce 'Candy' Rolon
Michelle Westwood

Hawks Ridge Assisted Living

Highgate at Vancouver

Melanie Danelson
Steve Lin
Autumn Mathis

Highgate at Wenatchee

Jean Lehman
Sarah Robbins

Holladay Park Plaza

Christina Douvris
Cindy Nelson
Susan Platte
Katee Samuelson

HomePlace Special Care at Burlington

Juliann Berg
Wendy Haggard-Martin
Jennifer Moody

HomePlace Special Care at Oak Harbor

Horizon Ridge

Anthony Christensen
Donna Gillan
Rhett Jensen
John Mastrocola
Rebekah Miranda
Troy Reese
Rocky Tanner

Josephine Caring Community

Alisha Hanson
George Friou
Shannon Goins
Teri Lindgren
Terry Robertson
Sheila Wright

Junction City Retirement and Assisted Living

Juniper House Assisted Living and Memory Care

Michelle Legore
Johnnie McQuilkin

Juniper Springs Senior Living

Colleen Belmontes
Shannon Carlton
Jen Miller

Kinsington Place

Mary Blandau
Edwina McCarthy

Kinsington at Redwood Park

La Conner Retirement Inn

Linda Hall
Christina James
Elena Vrinceanu

Laurel Parc at Bethany Village

Macdonald Residence

Manor Terrace Care Suites at Rogue Valley Manor

Jill Howard
Melissa Preston

Marine Courte Memory Care Community

Marquis Autumn Hills

Jennifer Geer
Scott Schuyler
Erika Walters

Marquis Centennial

Sharron Hill
Amy Loveless
Amy Stone

Marquis Centennial Hills

Jacob Atwood
Quinn Kohler

Marquis Forest Grove

Kathleen Chabreck
Jennifer Cook
Shehani Fernando
Amanda Sandstrom
Suesan Thompson
Evan Windsor

Marquis Hope Village

Amanda Ballard
Tracy Berg
Marci Bird
Caroline Brown
Pilo Cano
Jessica Comerford
Kim Dossey
Craig Gingerich
Adam Harney
Courtney Hohensee
Melissa Laurandeau
Karen Marshall
Rhoda Parreno
Martin Ruybalid
Rebecca Safronchik
Jamie Swartout
Debbie Taggart

Marquis Marian Estates

Jennifer Hoffer
Katherine Olsen

Marquis Mill Park

Denise Black
Julia Ignashov
Alexandria Kearney
Brianna Rosser
Jennifer Smeltzer
Victoria Summers
Erica Velez

Marquis Mt. Tabor

April Olsen
Madison Pacheco
Lisa Slavik

Marquis Newberg

Joscelyn Cook
Dawn Jackson
Shaylee Nannery
Novi Ridjab
E. Jordan Stanley
Robert Thomas

Marquis Oregon City

Barbara Balmer
Jordan Turner

Marquis Piedmont

Nolan Bocksteigel
Kristy Cardwell
Lorena Curtis
Katie Greene
Eleanor Jimenez
John Kraemer
Marie Leos
Joan Maca
Andy Robottom
Sonia Salais
Brittany Spray
Shania Vang
Jan Worley-Blazek

Marquis Plaza Regency

Lisa Meyer
Sandy Connolly
Leilani Romero
Marilyn Saguran

Marquis Plum Ridge

Leslie Jacobsen
Vanessa Morrow
Christine Prather

Marquis Springfield

Derrick Landis
Gabby Shorey
Lisa Stedman

Marquis Tualatin

John Adlesich
Jordan Costanzo
Kylie Evenhus
Tara Manske
Stephanie Swayne

Marquis Vermont Hills

Fawn Aten
MaryAnn Lagazon
Karen Olomua

Marquis Wilsonville

Jessica Berry
Valerie Geurtze
Patty Kleckner
Stephanie Larsen
Melisa McDonald
Jamie Weinel

Martha & Mary

John Cortina
Heather Dart
Rebecca 'Aggy' Feliciano
Lynnette Ladenberg
Sally Peregrino
Amanda Pryslak
Amanda Svoboda

Maryville

Maryville Memory Care

Mylene Cepeda
Melissa Vitale

McKillop Residence at Marian Estates

Shauna Garza
Judy Sherman

Meadowbrook Place Assisted Living

Suzanne Miller
Isela Regalado

Meadowlark Senior Living

Samantha Fauvor
Andrea Fitzgerald

Melody Court Memory Care Residence

Christeena Hanson
Trevor Taylor

Memory Support Center at Rogue Valley Manor

Merrill Gardens at Green Valley Ranch

Sara Padilla
Christine Perez
Linn Thome

Mirabella Portland

Tristie Choe
Stephanie Cook
Michael Crivellone
Megan Huston
Kendra Robinson

Mirabella Seattle

Kenneth Castillo
Jesan Frazier
Amy Heider
Loni Held
Brooke Kasten
Emmanuel Mensah
Kinga Nagy
Kevin Stallo
Tina Tran
Laura Yusim

Mission Healthcare

Mission Healthcare at Bellevue

Mission Healthcare at Renton

Anafrid Amiani
Heather Bills
Erica Enrico
Dell Workman

Monterey Court Alzheimer's Care

Morrow Heights Assisted Living

Mt. Bachelor Assisted Living and Memory Care

Mallory DaCosta
Irene Hernandez
Maggie Jeans
Don Seaton
Ulysses Vargas
Jennifer Williams

Neawanna By The Sea

Denna Lounseury
Shawna Weist

Nehalem Valley Care Center

Debra Padgett
Martha Parker

Normandy Park Senior Living

Kylene Daligcon
Lily Fogleman

Northridge Senior Living

Ocean Ridge Assisted Living

Olympics West Senior Living Community

Sherri Hatch
Elicia Paquette

Oregon Veterans' Home - Lebanon

Abraham Andrade
Monica Claflin
Heidi Dallas
Kassy Ketchum
Candy Mull
Valerie Nored
Kelly Odegaard

Oregon Veterans' Home - The Dalles

Katherine Buckley
Cheryl Maitlan
Tara Pray

Our House of Portland

Crystal Barber
Gwen Dunham
Mary Rita Hurley

Pacific Gardens Alzheimer's Special Care Center

Laurie Barber
Amelia Bevier

Pacific View Senior Living

Leslie Davis
Carol Reed
Penny Stark
Malia Zartm

Parkshore

Annika DiNovi
Roger Moore
Katie Salyers

Parkview at CherryWood

John Goodwin
Nicole Livingstone
Olivia Peneyra
Elizabeth Reining
Heather Suitor
Wendi Taylor

Parkview at Wheatland Village

Katie Allessio
Brayden Strode

Parkview Senior Living

Jenelle Anderson
Jennifer Johnson

Patriots Glen

Julie Brewer
Jordan Drew
Hind Essalmi
Jane Whitaker

Patriots Landing

Pine Ridge Alzheimer's Special Care Center

Pioneer Village

Beondi Hewson
Dora Howard
Eileen Morrow

Prairie House Assisted Living and Memory Care

Harold Bailey
Rick Kennaday
Steven Mays
Love Pearson

Princeton Village Assisted Living

Rackleff Place

Raleigh Hills Assisted Living

Lynda Brown
Wendy Lilly
Emilyanne Miller
Keika Ruttan
Yesica Zaragoza

Redwood Heights Assisted Living

Redwood Terrace

sheryl Aldstadt
Jim Thompson
Marlys Wood

Regent Court Senior Living

Sherri Frost
Zeth Owens
Jennifer Roberts

River Terrace Memory Care

RiverWest Senior Living

Mary Eisele
Debbie Remsen
Marla Starcevich

Robison Health & Rehabilitation Center

Krista Mattox
Polina Munblit

Rogue Valley Manor

Lisa Mandell
Amy Stonehill
Stan Solmonson

Rosewood Memory Care

Royal Columbian Retirement Inn

Saphire at Liberty Pointe

Saphire at Woodway

Sea View Senior Living Community

Donna Buick
Cristi Parada
Kerri Staggs

Skyline at First Hill

Jim Bennett
Carol Foltz
Rita Manley
Kevin McNamara
Greg Melin
Ryan Miller

South Beach Manor Memory Care

Jeff Frandsen
Logan Pratt
Tina Tittle

SouthTowne Memory Care

Spring Meadows Assisted Living Community

Ana Arenas
Tiffany Padula
Pam Sessions
Andrea Singleton
Nina Wendelschafer

Stafford Healthcare at Ridgemont

Erin Bartz
Roger Joice
Adrienne O'Leary

Stephen's Place

Summer Wood Alzheimer's Special Care Center

Laurie Ahmann
Lynnette Arntson
Irene Hyde

Sunnyside Meadows Memory Care

Sweetbriar Villa

Table Rock Memory Care Community

Marilyn Lawson
Darren Penquite

Tacoma Lutheran Retirement Community

Noel Hermann
Kevin McFeely

The Adriana Senior Apartments

The Amber Assisted Living

Wanda Harris
Heather Medina

The Aspens Living Center

The Bellingham at Orchard

The Gardens at Juanita Bay

Monika Carrillo
Errol Porter
Lucy Robles

The Landing a Senior Living Community

Shirly Keller
Summer Lybarger
Mark McClellan
Elisa Moore

The Lodge in Sisters

The Oaks at Lebanon

The Royal Anne

Kurt Hagardorn
Anna Hubenya

The Springs at Anna Maria

Christine Adams
Vitoria 'Tori' Balfour
Brenda Connelly
Kathryn Teach
Meaghan Walkup

The Springs at Carman Oaks

Amy Brown
Melissa Carnell
Sarah Coco-Findley
Curchelle Ensign
Kayla Harris
Anna Neudorfer
Vikram Robert

The Springs at Clackamas Woods

Amy Dudley
Krista Krebs
Olivia Lockard
Becah McNaughton

The Springs at Greer Gardens

Victor Barredo
Stephanie Dennis
Brandon Hart
Emory Healey
Bard Howe
Lauren Lebien
Ashley Marshall
Ashley Schulze
Shalyn Wiltshire

The Springs at Lake Oswego

Jackie Fisher
Jeff Herinckx
Linh Ho
Candice Marcks
George Wheeler

The Springs at Mill Creek

Heather Jarding
Naomi Ma'ae
Toni Sly
Jayce Tappert

The Springs at Sherwood

Sabrina Anhaack
Talia Rivera
Sara Sievers

The Springs at Tanasbourne

Eric Christensen
Libby Hutter
Victor Lanna
Taylor McCaulley
Linda Stanich
Greg Young

The Springs at Veranda Park

The Springs at Willowcreek

Maria Cortez
Eva Daliana
Richard Salazar
Laarni Small
Rebecca Staggs

The Springs at Wilsonville

Caroline Aldan
Sonia Marquez
Tim Minks
Bernard Palmer
Lynn Reverman
Rachelle Story
Michele Swisher
Stacy Zimmerman

The Suites Assisted Living & Memory Care

Jennifer Ambeau
Jay Pettit
Angel Robertson

The Taft Home

Tiffany Coleman
Karen Shenefelt
Randee Skeen

The Terrace at Beverly Lake

Cory Peganyee
Janet Tellier

The Village at Keizer Ridge

Anna Palomar
Nancy Steers-Crist

Timber Pointe Senior Living

Dena Harrigan
Kryssey Ponce
Tammy Tucker

Tri-Cities Retirement Inn

Vashon Community Care

Katherine Daves
Wendy Kleppe
Wes McKey

Village at Valley View

Village Concepts of Auburn - Brannan Park

Sherlyn Bessette
Danie Monaghan

Village Concepts of Bothell - Riverside East

Katie Blachly
Betsy Frankie

Village Concepts of Burien - El Dorado West

Village Concepts of Chehalis - Woodland Village

Jessica Grey
Halsey Luciano

Village Concepts of Enumclaw - High Point Village

Village Concepts of Fairwood

Village Concepts of Gig Harbor - Sound Vista Village

Village Concepts of Hoquiam - Channel Point Village

Cherie Bies
Maggie Birmingham
Brandon Mullins

Village Concepts of Issaquah - Spiritwood at Pine Lake

John Oates
Linda Overland-Smith
Brenda Pajo
Margarita Reyes
Michelle Strazis

Village Concepts of Milton - Mill Ridge Village

Village Concepts of Oak Harbor - Harbor Tower Village

Jessica Burley
Katie Jones

Village Concepts of Port Angeles - Park View Villas

Gladys Doty
Marthe Fortman

Village Concepts of Sedro-Woolley - Country Meadow Village

Vineyard Heights Assisted Living

Kimberly Basilin
Janet Sederquist

Washington Care Center

Wheatland Village

Tamara Gordon
Tom O'Donnell

Willow Place

Willson House

Tabby Buchholz
Donna Tweed

Windsong at Eola Hills

Woodside Senior Living

Woodway Senior Living

Alyssa Henderson
Katie James
Partners
American Health Care Association

Courtney Bishnoi
Mark Parkinson

American Society of Consultant Pharmacists

Centers for Disease Control and Prevention

Department of Human Services

LeadingAge Oregon

LeadingAge Washington

Managed Health Care Association

Diane Koontz
Stacey Ness
Russ Procopio
Michelle Templin

OmniTech

Oregon Health Authority

William Beck
Rachel Currans-Henry
Trevor Douglass
Rex Larsen
Ashley Marshall
Mike McCormick
Lance Pugh
Jennifer Stalsworth
Genevieve Sundet

Oregon Healthcare Association

Phil Bentley
Linda Kirschbaum
Rosie Ward

Signature Home Health

Cody Feakin
Kenna Feakin
Mary Kofstad

Statim

Washington Department of Health

Washington Healthcare Association

Robin Dale
Vicki McNealley
Lauri St. Ours
Jennifer Summers
Home Office
John Baker
Daniel Carney
Daniel Cowart
April Diaz
Ella Eberwein
Drew Fogg
Phil Fogg
Zach Fogg
Autumn Han
Rick Jackson
Matthew Johnson
Angie Latta
Andrew Leeland
Nick LeVee
Scott Miller
Tyler Rachal
Gary Tetz
Laurie Thomas
Nick West
Kelsey Whittaker
Katy Zahrte